Saturday, 1 December 2018
The TGO Challenge
- there's lots of advice out there - so my small contribution may not add much. At least this catharsis will allow me to move on in my reflections - and focus on my new challenge for 2019.
Some may think backpacking is backpacking is backpacking. But Scotland always has rain which makes it different.
Weight
There is a culture around lightweight backpacking. A number of suppliers - like
backpackinglight.co.uk
- focus on assembling goods from around the world (or indeed making them themselves) to meet the criteria of 'lite' or 'ultralite'.
My pack when loaded for a trip with 4 days of food and a litre of water weighs around 15 kilos. I've looked with envy at those who manage with 12kg or even less. At first, after each trip I made a list of what do to take weight out of my pack.
But finally I have seen the light. Shaving 2kg off my 15kg pack seemed significant - a saving of 15%! But actually, including my body weight, I drag between 95 and 100 kilos up the hill and so the 2kg saving makes my total burden only 2% lighter!
How much to carry then? The load must be comfortable on your back: this is the key. A big contributor is the pack design - a wide padded hipbelt with adjusters for the hips and waist is important.
This Osprey pack is a suitable size but the straps and hipbelt are not comfortable over long periods with a 15kg load
This pack from
Six Moon Design
is based around the heavy duty hipbelt which will comfortably carry any weight the bag can accommodate.
And if you want to shave a few kilos off your load consider lightening you calorie intake for a week or so before a trip.
Shelter
What are the key point of a shelter for backpacking in Scotland?
Weight and bulk. The more tent you carry the less you have of something else. I seem to have managed with about 1kg for everything to do with shelter - including groundcover and pegs.
Protection from the elements - particularly wind and rain. A tent can be like a sail; a design that works in strong winds is valuable.
Capability to keep wet and dry gear separated. This requires a certain amount of space.
Condensation management. It can be quite disheartening to find that, although the rain has been kept outside, your down sleeping bag is sodden from condensation on the sides of the tent. This again is a function of space available inside the shelter and if there is an inner shell, the correct separation of the two layers. Ventilation can help too.
I've graduated from a Terra Nova Laser Competition, to a MLD Trailstar, to a custom made tent from Colin at
Tramplite.com
.
A slackly pitched Laser Competition
The Laser Competition is a standalone tent with an inner shell and poles. It required a few modifications to improve stability in a shifting strong wind, and to increase ventilation. I found it too compact and a bit claustrophobic when zipped in against the elements.
MLD Trailstar with homemade sinylon groundsheet
The MLD Trailstar is a wide tarp-tent. It is very stable and can be adjusted from inside as the wind changes direction. With lots of room arranging the inside has several options - from a simple plastic groundsheet to a zipped mesh 'nest' which shares the single walking pole in the centre for support. It covers a wide area of ground and sometime it is necessary to include a rock or a bit of a stream inside. There's plenty of room for a second person. The one shortcoming is the need to crawl in and out of the entrance. An excellent simple design nevertheless.
The rare Sinylon Tramplite shelter - now only in Cuban
I followed Colin Ibbotson to the Trailstar and when I learned he had his own design on the drawing board I knew it would be based on his long hiking experience. His offering is like a Trailstar cut in half with a well-crafted entrance beak. The great advantage is an open front design which supports a good view of the outside. The main shortcoming is the need to have its back into the wind, coupled with a width similar to the Trailstar which means pitching well on uneven mountain ground is not always easy.
You can see from the
website here
that the tent now comes only in Cuban / DCF and has continue to evolve as one of the best light weight solo shelters.
Waterproofs
The basic choice is membrane or Paramo.
There's a whole range of membranes of which Gortex is the most well known. The common problem with membranes is breathability. Do you perspire? If so, a membrane jacket can leave you wet on both the inside and outside. Leeds University has done a lot of research on waterproof fabrics, some of it quite comprehensive in its comparison of different fabrics. The latest is
here
. Also look
here
for a primer in the subject and some useful links.
Of course there is no definitive answer to the question 'what is best?'.
When I first came across Paramo it seemed like a miracle. It could be worn comfortably all day and remained protective if the rain came. Now I choose it anytime for a day trip when it is not too hot.
Paramo's waterproof-ness depends on a DWP surface barrier, body heat. and a special relationship between the different layers of fabric which make up the garment. All 3 need to be in good shape to work. Sweat, dirt, abrassion by the elements all serve to reduce its effectiveness. This is magically restored by washing using the non-detergent soap solution 'Techwash' and, every so often refreshing the DWP by using TX.Direct or a competing product. For a back-packing trip it probably necessary to use Techwash once a week to keep the the fabric in shape.
Paramo waterproofs come in different weights. The lighter fabric start with a disadvantage being susceptable to penetration by wind-driven rain. On the other hand a warm body or warm room can dry a Paramo garment in a very short time. Over time - say an hour or two - in favourable conditions a Paramo jacket can dry out a perspiring body - in breathability it is second-to-none.
My TGO problem with Paramo is that the full weight fabric is often too warm and a bit bulky to carry, while the protection from light weight fabric is not good enough.
To see the Paramo story look
here
.
Feet
It is hard to have a successful and enjoyable walk with sore feet.
The key to success with feet is:-
i) Do not ask more from them than they are used to. If you usually walk 3 hours and you suddenly walk 8 or 9 hours, you are asking for protest. If you usually walk with dry feet and you walk all day with wet feet likewise. If you change your shoes expect trouble before your feet are used to them. If you normally walk on the flat, when you move to rough terrain problems loom.
ii) Look after them. You can usually feel and see hotspots before they become an incumberance. Take protective action with plasters of one sort or another.
iii) Socks. Problems often come from the action of socks gripped by the boot / shoe and rubbed against skin. Choose socks with an amount of elastene which helps maintain their shape especially when wet and stops them sagging and rucking against the feet. My current favorites are '
darn tough'.
iv) Shoes. Of course your feet should be familiar with your shoes. Boots, trainers, leather, fabric, gortex or other membrane, with fine and varied footbeds are all possibilities for torture. Remember that feet and ankles may need extra support after 7 or 8 hours on the go, and that walking pathless and traversing steep slopes can add to the strain.
Boots or Trail shoes? Maybe something for river crossings?
It is impossible to walk the width of Scotland with dry feet. If the bog doesn't get you perspiration will! Be prepared to put on cold wet socks in the morning, and then wet shoes or boots and then walk all day.
Plasters do not stick well in these circumstances. Consider Friars Balsam and Leucatape as a basis for make plasters or moleskin stick securely to feet to protect hotspots.
Maps
There's lot of 'official' advice about mapping, all of it good.
My approach has been to plot my route on the Ordinance Survey online UK mapping application. I pay around £20 a year to access this. I then print the route out to PDF files as efficiently as possible. When I am happy with the coverage and scale I transfer the images, double-sided, onto plastic waterproof paper.
You will be told that to rely on a printed map of your route alone is folly, because you are bound to deviate from it. In my experience this is quite true! I take a minimum number of folded maps - I like
Harveys
1:40000 scale. They are waterproof, designed for walkers, and cover some of the more interesting mountain areas of Scotland. I try to cover the areas where I most expect to be challenged.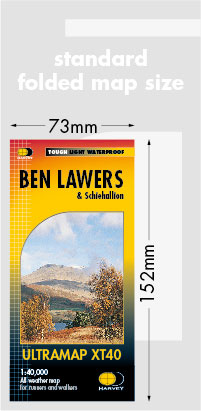 Some of the Harvey Maps are truly pocket-sized!
Food
If you are following a civilized route and perhaps staying in B&Bs this is unlikely to be much of a problem.
On the other hand if you aim to spend most days and nights in the wild you may have some difficulty - like me!
Every night I am happy to have a rehydrated meal, and soup, and tea. I never 'cook' which means my gas stove is used for boiling water only and a Jetboil look-alike does the trick perfectly.
Daytime eating is more difficult. I used to start the day with instant porridge, but this is pretty horrible especially without milk, sugar, fruit, etc. Now I use granola mixed with Nido milk powder to which I add some water. Most Granola is too sweet for me and whichever I choose I soon get tired of it.
What can you eat during the day - day after day, while walking and walking? For some, sweets are the answer, others take to dried fruit and nuts. Me - I use oat biscuits with mild cheese or sausage, and garibaldi type fruit biscuits or cereal bars. Old sandwiches don't seem to work.
It is interesting to note what you gravitate towards when you enter the first shop in 5 days. Will is be fruit? Coke or Cake? A meat pie? A portion of chips?
I find it hard to carry more than 4 days food, and that means resupplying en route. If you pass shops you can flexibly adjust your diet to what is available. The alternative is to send a parcel or two of key supplies for collection from some place on the way. B&Bs, post-offices, campsites - they all seem happy to accomodate this request.
Training
Long walking and backpacking is much more fun if you are fit.
Age is significant here. I remember the days when people on the hill were always soon overtaken and disappearing behind me. Those days are past.
If you study age you will be familiar with the graph which shows capability of some sort (for example cognitive ability) plotted against age. There is a gradual slope downwards from age twenty-something until sixty. Around sixty or so there is a cliff edge where the line descends dramatically as capability drops.
This doesn't apply to everything - happiness for example, and vocabulary actually improve - but we are talking about fitness and responsiveness to training.
My last TGO was a wake-up call for age-related-fitness-deficit. I had done practice walks, sometimes long - upto 6 or 7 hours, most often much shorter, but always without pain or strain. But for the first time I failed to do any mountain walking. It was hard to arrange trips away from the relatively flat home counties of England, and when I did the weather was so awful that I kept in the valleys.
In the past, without training, I have arrived in the mountains and within a couple of days I have found my pace. But last May was different. My first Munro took some 3 hours to ascends - almost double my planned time. Even on day 8 there were folks with children and dogs passing me uphill never to be seen again.
So my advice is to train doing the type of walking you plan for your trip. If you are doing mountains walk mountains. You will have long days so walk long in training. If you have pathless and wild stretches in your route incorporate some of this in your training. As you age, gaining a high level of fitness is harder and takes longer.
My poor preparation last time resulted in some very long days. This also required some unplanned, poor camping spots. and the disheartening business of revising some key milestones out of my route.
Of course you can do a TGO without being super fit! You are doing the planning so match the route to your capability!
Posted by

MPaulM
at 20:54
No comments:
Links to this post

Thursday, 28 June 2018
The map shows the route tracked from 30 minute beacons sent by a Spot satellite tracker and captured by Phil Sorrell's Social Hiking site.
Push and pull the map in the window below to see the route in blue.
Pitlochrie was planned as the first night indoors. I had tried to find somewhere earlier, but without luck. A room give a chance to regroup - to dry out, to wash, and check over gear. With fine weather however the 7 nights of wild camping did not generate much work and arriving in the early afternoon allowed me to enjoy the ambiance of the Backpackers Hotel and relax with some fruit;-)
Chris Townsend
is my guide to
Scotland
and I think it was his book of this name that extolled the virtues of the riverside walk from Pitlochry towards Kilicrankie. It is a pleasant way to leave the town - on a path shared mostly with a few dog-walkers who makes way to families as you get closer to the Kilicrankie Visitors Centre.
On the col before the path ascends the second munro there's 5 or 6 people in a conflab. Someone has gone missing. Friend Linda has been waiting for Maxine for a while. What should she do? Difficult to know really - the weather is fine and clear, the path is straight forward, and there's a number of people doing the round.
Its easy to dwell on this and, moving slowly, I decide to skip the third munro of the Beinn A'Ghlo group (where I might find Maxine) and head down to Glen Tilt to camp. Something, maybe my reflection on the lost walker, makes me a little careless in plotting my trajectory. What should have been easy turns into a nightmare as I scramble down a steep stream-bed - a recipe for double exhaustion not to mention some hours delay.
Scrambling down was not fun!
Eventually I reach level ground by the river and a short walk leads to the bridge where I intended to descend. A small tent is already pitched and closed up for the night. I set up nearby and welcome some food and a good rest.
I was camping at the bottom of Luib Mhor, having descended Torran nan Caillach by mistake. The next morning I was soon opposite An Lochain where I would have ended if I had traversed the 3rd munro Carn nan Gabhar. As I pass, someone coming from that direction is preparing to cross the river towards me.
A walker preparing to cross River Tilt
The falls of Tarf, un-dramatic but pretty with the Bedford Bridge soon appear; and then the crossing which will take me to Fealar Lodge. Here a couple of campers observe that 'everyone except us' seems to be doing the TGO coast to coast walk. Where is everybody? I haven't seen a TGOer for days!
Bedford Bridge
Falls of Tarf
As I approach Fealar there are two walkers moving slowly, looking unsure of the path. This turns out to be TGOers John Arlington from Washington and his English companion. They are heading my way, but have a room booked at Spittal of Glenshee - some distance before I plan to stop, so after a chat I lead off.
Loch nan Eun
There are a couple of munros on my plan for today, but I demur. Although walking faster than the colleagues I have just passed, I am too slow to reach my target over the mountains so I follow my FWA along the glen. Today is cloudy and cooler and Loch nan Eun is grey and desolate.
I pass the 'Activity Centre' where I expect some TGOers to be staying tonight - the sign says 'Cafe Closed', 'No Vacancies'. A little later I explain to a local where I intend to camp - "its as good as anywhere if you don't want facilities!". This seemed an odd response, but I learned the next day that this was probably the manager of the Activity Centre, and actually there
were
vacancies that evening.
Spittal of Glenshee
The bowl-like valley is rich with livestock; it is a shame that there is also much black plastic - on the fences, in the soil, in the abandonded buildings.
The ground around Loch Beanie is rougher than I imagined but there's a fine spot by the boat hut. In the morning I see there are also possibilities by the beach at the east end of the loch.
The beach at the east end of Loch Beanie
It is a pleasant and quiet spot and I prepare my food to the 'plop' of fish jumping for insects. Birds are busy late into the night and I wonder if my presence has interupted their routine.
Most days I've been challenged by the distance planned, and I spend some time studying tomorrow's route, trying to shave off a few kilometers.
The gaelic names of hills in the west have given way to some quite odd sounding titles. Today I will navigate over Finalty Hill, Mayar, Driesh, and Hill of Strone.
I find a slight shortcut along a path attractively named Spying Hillock. This is pleasant walking out of Glen Isla - futher south and there'd be two other glens to cross, but here after a few hours I am high above Glen Clova.
Spying Hillock looking south
Spying Hillock looking north
Near Driesh there are a few people on day walks coming from the visitors centre down below. The valley walk is long, on road and I planned to follow the hills until the Clova Hotel come in sight, then head down. This plan worked fine, although the route down was a bit rough and pathless.
Driesh viewed from summit of Mayar
The ridge above Glen Clova
The ridge above Glen Clova
Clova Hotel is strategically placed for TGOers, 2-3 days walk away from Montrose. They used to have a bunkhouse as well as normal hotel rooms, but this has been redeveloped to provide extra en suite rooms. These were in use for the first time - mine was large and comfortable.
Clova Hotel - better than a bunkhouse?
The bar meal was a comfort too, especially as I was one dinner short in the last parcel I picked up. Ther were also a few disappointments:- very poor wireless, some snags in my room, and no breakfast before 8am. I was offered the alternative of a packed lunch to eat in my room.
Glen Clova from the path to Loch Brandy
For many there are 3 days left, with the next stop at Tarfside one of the most sociable points on the whole of the TGO. This would be followed by two short days to arrive at the coast. My plan is to continue walking beyond Tarfside to camp somewhere near Edzel on the River North Esk (this is the first time I noticed that at Clova is the River South Esk).
Navigation challenge with path markers
I was first to leave the hotel at 7 am and walked up the hill right into the wet cloud. I've been here before in these conditions and navigation is not easy. This time I notice small markers on the route, and with my compass out and regular checking it goes well. Eventually I recognise a place where previously I, and some other TGOers had trouble, walking back and forth in the mist. On the map the path seems to follows the ridge, but on the ground the path is invisible, and the ridge splits in two. With only a few meters visibility it is a bit hard to grasp this.
Once on Wester Skuilley, however, it plain sailing - the cloud lifts, the path becomes a track and the sun begins to shine again. I keep high over Burnt Hill and Cairn Caidloch to descend at Gleneffock farm with the familiar view of Rowan Hill across the valley below.
The last hill, down to Glen Esk
The bridge at Gleneffock Farm
There's a track on the south side of the river which becomes more definitive beyond Gleneffock. As I look north towards Tarfside I can see a couple of small figures setting up tents up on the village green.
Tarfside village green
This landscape looks friendly enough on the map, but it is monopolised by livestock and birds.
There's salmon in that water!
Two locals on the bridge explain that a lot passed by at about 7am.
The road walk to the coast is tolerable; the last 5km or so could have been on footpaths, but unfortunately I missed a turn-off. In compensation I find hot soup and sandwiches at the post office in Hillside.
Posted by

MPaulM
at 13:53
No comments:
Links to this post